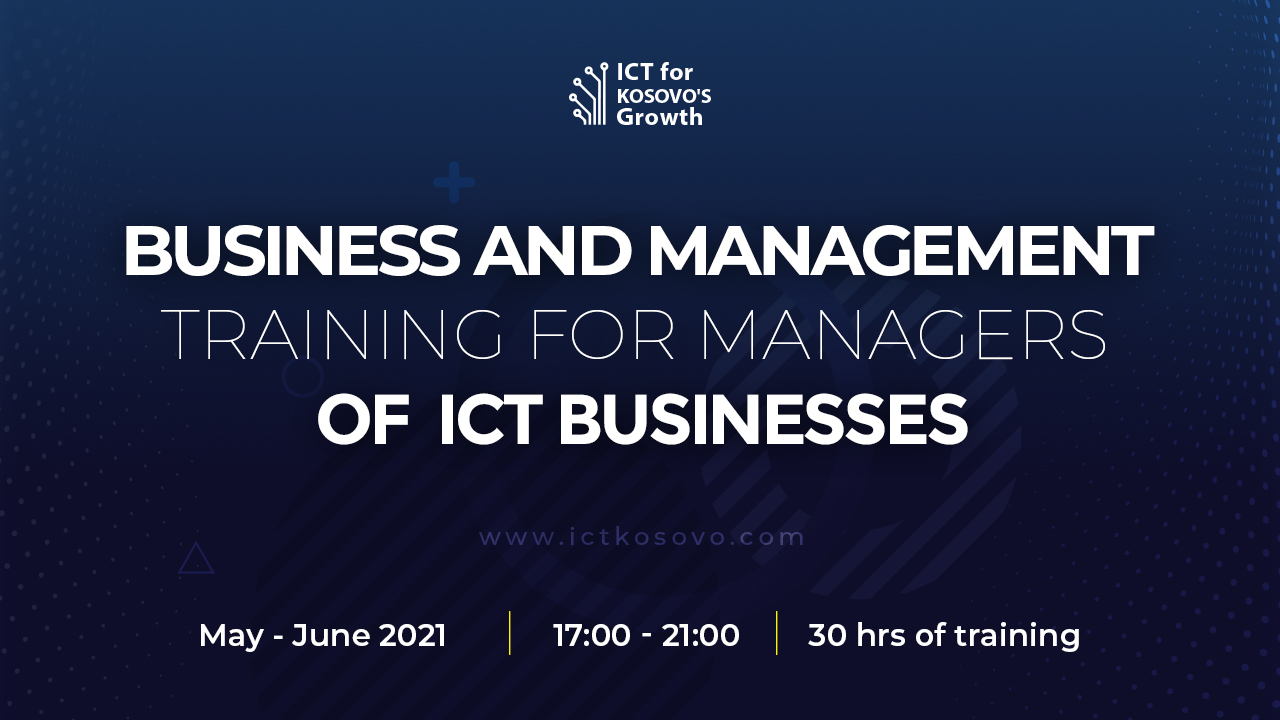 Following the delivery of ICT Skills Development Training to improve the ICT capacities of the Kosovo ICT workforce which will be provided to 1.440 people (already more than 200 people completed the ICT training) the Project announces Business and Management training for managers and owners of  ICT Businesses.
The training curricula are designed in line with domestic and global IT market trends and on current needs for training on business development and management for ICT businesses, including management, business development, marketing and export.
The business and management training consists of two modules:
Module I – Management, Governance, Financial Assessment and Human Resources (16 hours)
Module II – Empowering Competition, Marketing and Sales, Internationalization (14 hours)
Who can apply?
Local Managers/entrepreneurs of Kosovo ICT businesses can apply to the training.
Selection Criteria
Structural criteria

Structure of the Business
Area of the business
Targeted Market

Other Criteria

Products/Services Portfolio
Innovation

Essential criteria

Local Managers/entrepreneurs of Kosovo ICT businesses
English Language

Desired Criteria

Existence in the market
Size of the Company/Entrepreneur
Training dates:
The training will be carried out between May – June 2021, 4 hours course per day (from 17:00-21:00), max. 2 days per week, 30 hours of training.
Trainer
Davide Branco holds a Laurea (Advanced degree) in Economic Policy in Italy and an MSc in Corporate Governance in the UK. He is an experienced SME International Development and Training Expert with more than 35 years of general experience.
He covered various positions as Marketing & Export Manager, Export & Marketing Consultant, Project Manager, Team Leader, Program Manager, Senior Lecturer, Visiting Professor, Senior Capacity Building and Training Expert, Senior SME Expert, Senior Entrepreneurship Expert and lately Senior Employment Expert, in both National and large EU funded projects. He has designed, coordinated and delivered numerous capacity-building activities and training programs in topics such as SME Development, Business, Management and Entrepreneurship, addressed to Unemployed, Managers, Youth, Women, Business Service Managers and providers, Public Officials, Start-ups, SMEs, Entrepreneurs, Social Entrepreneurs and others. During his complementing academic career as Senior Lecturer-Visiting Professor in strategic management & entrepreneurship as well as BA and MA Program Director, he designed Master's level curricula, while he is author of booklets and seminars' papers on entrepreneurship and development. Membership of various SMEs associations, Councils and so on, do complete the profile.
The deadline for application is 24th of April 2021!